Digital Territories in East Asia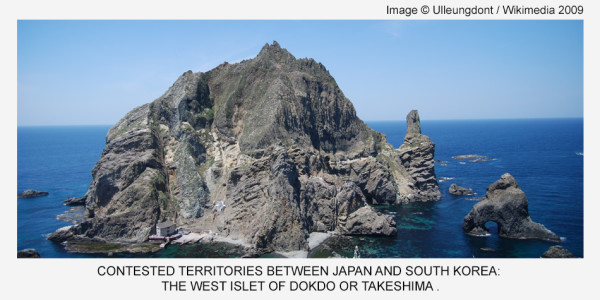 A Discussion with Students at Leiden University
Over the past three months, our grad students here in the Leiden Asian Studies programme have been debating the many ways in which digital technologies impacts politics, society, and culture in East Asian contexts. As we conclude our semester, I have asked them to come together for one last online debate, this time on digital territories.
National territories are a matter of heated feelings in many places around the world, and the East Asian region is an illustrative place to turn to if we wish to understand how nationalism, sovereignty, and questions of territory work today. The legacies of war loom large in the region, and the history of WWII and the Cold War have left their mark on the protracted ways in which various states and their citizens make sense of 'homelands'. For instance, islands in the East China Sea frequently become a matter of political dispute between the three states that claim sovereignty over the rocks: the People's Republic of China, the State of Japan, and the Republic of China on Taiwan. To the north-east, Japan and Korea both lay claim to islets in the Sea of Japan, which are known as Dokdo in Korean and Takeshima in Japanese. Meanwhile, to the south, various countries are protesting what they perceive as aggressive moves by the PRC to consolidate its position in the South China Sea. These disputes can lead to diplomatic rows, public protest, high-profile activism, and even the risk of outright military conflict.
Territorial disputes are frequently analysed and interpreted within frameworks of realpolitik, that is: through theories that highlight the competition between states over limited geopolitical resources. And yet the political meaning of 'territory' is heavily constructed through communication practices, beliefs, and worldviews. 'Traditional' types of media play an important role in this, for instance museums, maps and passports, and textbooks. Increasingly, however, knowledge of what counts as national territory is created, presented, filtered, and consumed through digital technologies (Schneider, forthcoming). Considering the ongoing debates about the ways in which public opinion and foreign policies might be connected (cf. Gries et al. 2016), it seems prudent to ask what role physical and digital territories play in dynamic political context like those in East Asia.
Where do 'territories' exist, what are they, and who is in a position to shape their meanings? What roles do technologies such as search engines, wikis, web portals, mobile phones, apps, and video games play in conjuring up or presenting specific versions of national sovereignty? How can we study these phenomena, and what conclusions should we draw from East Asian examples about the connection between digital technology and politics? And finally: how might insights from media and communication studies connect with more mainstream approaches in the study of international relations as observers try to make sense of ongoing territorial disputes? Join us in the comment section below to share your ideas and any interesting resources that might shed light on this crucial dimension of international relations and communication.
References
Gries, Peter, Steiger, Derek, & Wang, Tao (2016), 'Social Media, Nationalist Protests, and China's Japan Policy: The Diaoyu Islands Controversy, 2012-13'. In De Lisle, Jacques, Goldstein, Avery, & Yang, Guobin (eds), The Internet, Social Meida, and a Changing China. Philadelphia: University of Pennsylvania Press (pp. 161-179).
Schneider, Florian (forthcoming), China's Digital Natioanlism. Oxford: Oxford University Press.