Conference Calls and Events 2018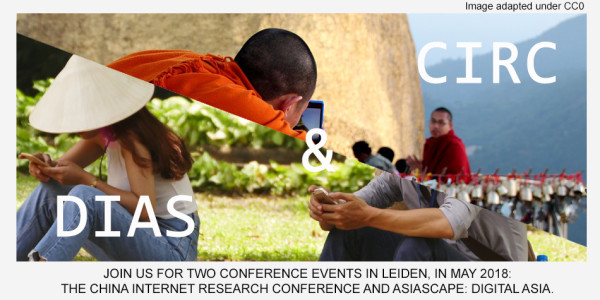 In May 2018, Leiden University will host a series of conferences and debates that deal with digital media and technological change in Asia. If you are interested in how the internet, smartphones, and the so-called Web 2.0 are transforming some of the most dynamic societies in the world, check out the conference calls below and join us for these exciting events.
Chinese Internet Research Conference
Deadline for Abstracts: 1 February 2018
Submission: Via email, to f.a.schneider@hum.leidenuniv.nl.
Details: From 22-23 May 2018, Leiden will welcome the 16th annual Chinese Internet Research Conference (CIRC16), which will explore the theme 'modes of connection', across social, economic, and political fields. For more details on this event, and for information on how to submit a paper, please see our official CIRC conference call. CIRC16 is an official pre-conference of the International Communication Association's 2018 meeting in Prague (from 24-28 May).
Asiascape: Digital Asia Conference
Deadline for Abstracts: 1 February 2018
Submission: Via the conference submission dropbox.
Details: On 28 May, the Leiden Asia Centre will host a debate about digital Asia, and the reception will serve as a welcome to the 3rd Asiascape: Digital Asia (DIAS) conference, which will be held at the Leiden University Institute for Area Studies and the International Institute for Asian Studies on 29 May. For more information on the conference and its theme 'Rethinking Communities in the Age of the Digital', please see the official conference call for papers.